Transport & Mobility Consultants - Ireland (TMC-I) was established in 2001 in response to a need from individuals and organisations for independent and impartial advice and driving assessment on all aspects of transport and mobility for people with disabilities, for elderly people and for health care professionals. The assessment strand of TMC-I provides driving assessment, passenger assessment and hi-tech equipment assessment for people driving from their wheelchair.
The training strand of TMC-I services provide accurate and professional training to organisations, their staff and members, in all aspects of transporting elderly and disabled people in cars, taxis, minibuses and in MPV vehicles. The training is accredited and co-certified through the Chartered Institute of Logistics and Transport in Ireland and is delivered to drivers, taxi drivers, bus escorts, and anyone involved in the safe transportation of elderly and disabled people.
In 2012 TMC-I won the Education Award at the Irish Logistics & Transport Awards 2012 and was a finalist for the Safety Award. The Awards took place before packed audience of the top echelon of Ireland's Logistics & Transport professions, with Richard Curran of RTÉ's Dragons Den and Deputy Editor of The Sunday Business Post presiding over the glittering awards ceremony.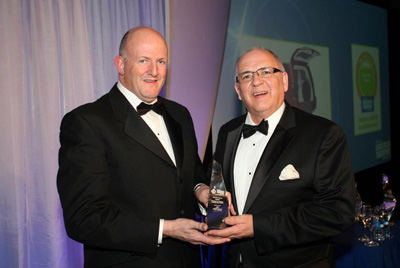 Pictured above is John Tuohy, CEO of Nightline presenting the Education Award to Tony Regan, Director of Transport Mobility Consultants Ireland.